Today we released Organizations, a significant update that makes it easier to manage your projects and your team.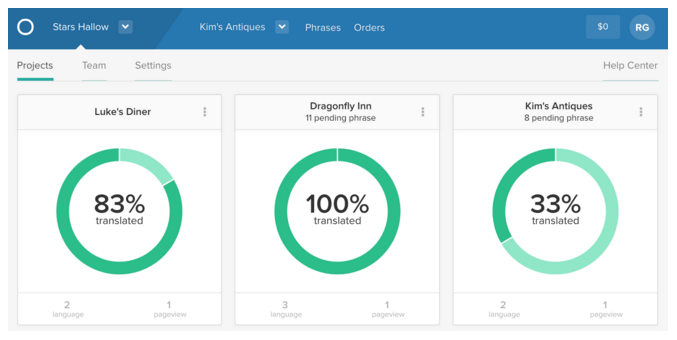 Organizations allows you to more easily collaborate with your team on multiple translation projects. You can set advanced Access Permissions for each member of your team, allowing administrators to easily add translators, developers, and other users to easily collaborate on multiple projects within your Organization.
Updates include:
1. Organization Overview
From the Dashboard you can see all your projects with all the information you care about right up front. To work on any project simply click on the project tile. And you can also add new projects by clicking on the + New Project tile.
2. Enhanced Team & Collaboration
We've also streamlined a few things to make it easier to organize your team and update their permissions. You can now manage the team out of the new "Teams" page.
You can invite new team members to the organization by clicking the "Add team member" button. Choose to make them an owner (unrestricted access to organization, billing, team settings, and is an Admin on all projects) or a member (customizable access where each member can be provided specific permissions).
For more information read about this awesome new redesign in our blog!